INTERVIEW WITH GWEN "PISCES SPEAKS" MACK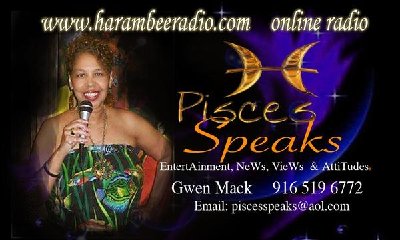 Interview with Gwen Mack February 2012
_____________________________________________________________
THANK YOU FOR GREAT INTERVIEW 2/21/11, SPECIAL DAY RUFUS WONDER
Brother Rufus Wonder,

I want to personally thank you for a great interview on Blue Monday show on Feb, 21, 2011 with Marshal Bluesman Wilkerson and myself, Gwen Pisces Speaks Mack. We look forward to having you back again in the very near future on www.harambeeradio.com.

You have an amazing story and your songs are fantastic. I truly enjoyed our short but sweet interview. I hope you got the mp3 file I sent you.

Lets keep in touch.

Interview With Rufus Wonder 2/14/2011
Hello Rufus,

I just listed to the 'sitting in the park' interview and was extremely happy that I did so. Not only was it very interesting, but it was funny too. Your memories of the 6ts record industry was incredibly vivid and detailed and in particular, it was great to hear you mention your co-artists at that time; Little Carl Carlton, Ed Henry, Harvey Scales etc. I'm a long time record collector of US soul and have many of these records, so it was great to hear you discuss various songs within context.
I remember first hearing the song 'under the moon' in the early 1980s, at a now famous soul club, called 'Top of the World' in Stafford, UK. This club has now a legendary status within the soul scene here in the UK, as it's djs and its members were a progressive crowd and liked to listen and dance to 'new discoveries' (6ts and 7ts soul 45s, that had until then, been unknown to the soul scene) Within a few weeks of it's first play, it became a firm favorite with the dancers and soon became one of the most wanted 45s by the collectors and djs. I remember one night in particular, when the unmistakable intro. began to play; there was a mad rush onto the dance floor, suddenly producing an electric atmosphere in the club. At this Soul club, the clientele new what a great soul record was and boy, was this a good one!
Within a few months I had found a few copies of your record, on a buying trip to the USA. Because 'under the moon' was getting a lot of airplay at the Stafford all-nighter club, many of the collectors and djs were desperate to acquire a copy, so I had no problems in trading them for other 45s that I wanted!
Btw, since you mentioned on the show, Edd Henry and his record, 'I love only you' Nu-Sound; I remember finding a box of these in a record warehouse in Florida in the early 8ts. We loved that tune too.
One question; the two original presses of the Lendo/Lando 45; the Lando press has a Sheldon stamp in the dead wax, where as the Lendo press has no stamp? Were they pressed at different pressing plants?
Thanks for your great interview and your exquisite recording of 'under the moon' atb, mark dobson (record collector and dj)
<><><><><><><><><><><><><><><><><><><><><><><><>
Wednesday, October 27, 2010 12:46 PM
MS Kristine For Supervisor-From: Rufus Wonder: "For Self Respect and Fair Play": This is Track 11, from my album.
Hey Rufus, thanks for reaching out! Your song is great, such a positive message. I might have to post it to my Facebook site. ;->
I love being on radio so I'm glad you liked what I had to say. KPOO is so much fun, such a great staff there.
Well I am off to knock on some more doors but keep those good vibes coming, and tell all your friends! You're welcome to invite people to join our mailing list:
Or send them a "Tell A Friend" email:
Cheers, best wishes with your music!
Kristine

<><><><><><><><><><><><><><><><><><><><><><><><>

SUGAR CHILE ROBINSON (By Dave Penny)
Born Frank Issac Robinson, 26 December 1938, Detroit, Michigan
The history of 20th century entertainment has been littered with the often ultimately tragic stories of its child prodigies; from Jackie Coogan in the 1920s, Shirley Temple in the 1930s, Toni Harper in the 1940s and Frankie Lymon in the 1950s. On the whole, although precociously talented, child entertainers were usually saddled with inferior, childish material that, while perhaps cute at the time, usually resulted in the youngster being regarded as a flash-in-the-pan novelty act which grew tiresome pretty quickly. The fall from grace, when they reached adolescence, was usually brutal, and some couldn't handle the swift drop in popularity and turned to drink or drugs, while others accepted that their time in the spotlight had ended and retired more gracefully to concentrate their energies in other directions. One such was that tiny bundle of Detroit dynamite, "Sugar Chile" Robinson.

Born Frankie Robinson in Detroit on 28th December 1938, the youngest of seven children born to Clarence and Elizabeth Robinson, neither of whom were musicians, while yet a toddler "Sugar Chile" began pounding on the piano left at his house by an aunt - he reputedly hammered out a recognizable version of Erskine Hawkins' current hit "Tuxedo Junction" at the age of two and by the following year was allegedly able to copy any music he heard on the radio. His nickname was bestowed about the same time when he developed a liking for sugar cubes, which his mother gave him to mollify him when he was upset, and he became her little "Sugar Chile".

His father recalled:
"Sugar Chile was just able to walk when he started thumpin' the piano. When he was about two, a friend of mine came over one evenin'. We just sittin' around and he says to Sugar Chile, `Here's a nickel, go play me a piece on the piano.' We figured Sugar Chile would just slide his hands along the keys and then run for that money. Doggone it if that kid didn't thump out `Tuxedo Junction'…"

In the early 1940s, aged about three, Sugar Chile Robinson entered and won the under 18s talent show at Detroit's Paradise Theatre, and for the next few years he was an infrequent visitor to that famous theatre and his fame began to spread. In 1945 - still only six years old - he played guest spots at the Paradise with Lionel Hampton's band and with Frankie Carle's Orchestra; Hampton wanted to take the child on tour with his band, but the US Child Labor Laws prevented it. Nonetheless, the seeds had been sown, and after guesting with Carle's band in October, before the month was out, he had been signed to a film contract by MGM and was on his way to Hollywood. While in Tinsel Town he filmed his cameo spot in the romantic wartime comedy film No Leave, No Love starring Van Johnson, performing Louis Jordan's then current hit "Caldonia". Reviews for Sugar Chile's 90 seconds on screen were glowing, and MGM tried to persuade his father, Clarence, to countersign another contract for seven years, but the future looked bright and Clarence refused to tie his son to such a long sentence…and the same was true for the many recording contracts which came his way in the mid- to late 1940s. While in Los Angeles in November 1945, however, Frankie hooked up again with Hampton, and was featured with the bandleader and with Harry "The Hipster" Gibson on several AFRS radio transcriptions.

In March 1946 Sugar Chile performed at a star-studded bill in Washington DC for President Truman, contributing four full numbers including his specialty "Caldonia" during which he shouted out, "How'm I Doin', Mr. President?" which became something of a catch-phrase. 1946 was a halcyon year for little Frankie, with star spots on syndicated radio shows and his own revue at Detroit's Downtown Theatre. Within a week of playing for President Truman, he headlined for a week at Chicago's Regal Theatre and grossed over $36,000, a record that remains the biggest one-week attraction of the theatre's entire history easily beating the jazz royalty of the day like Count Basie and Duke Ellington, and he began smashing box office records wherever he appeared; by August he was out in California, employing the likes of Sammy Davis Jr and Dorothy Dandridge to appear in his revue! At the year's end, his earnings were reported as $148,000.

1947 was much the same, with guest spots on many popular radio programmes and even an operetta Maryland, while touring the nation's theatre circuit with his father as manager and chaperone. Also in 1947 his success was celebrated with the filming of a seven-minute film featurette simply entitled Frankie "Sugar Chile" Robinson; a fine showcase for his talents, but still no contract resulted from the US recording industry.

Throughout the whole of 1948 the AFM strike mean that the recording studios were out of bounds to musicians. Not that that would have bothered Frankie anyway, as he was still too young to belong to the musicians union - Union boss J C Petrillo personally provided written consent for him to be included, making him the youngest ever member of the AFM at that time. With his special dispensation, in July 1949, he made his first records for the Capitol label in Los Angeles, when, in the consummate company of Leonard Bibbs on bass and drummer Zutty Singleton, Robinson took his first two releases into the Billboard R&B chart in late 1949; "Numbers Boogie" made it to number four, while "Caldonia (What Makes Your Big Head So Hard?)" only reached number 14.
Robinson toured with Count Basie in 1950 and made a celebrated musical short with the Basie Sextet and Billie Holiday in Hollywood in September to showcase his hits. The Christmas season of 1950 witnessed Sugar Chile's first European release and "Christmas Boogie" c/w "Rudolph The Red-Nosed Reindeer" sold well enough to spark a two-month tour of the UK in the summer of 1951, including rave reviews for his spot at the London Palladium, guest spots on BBC TV and a Melody Maker interview. He was a big hit on US radio and TV all through 1951 and was asked to return to Britain for the summer season of 1952, but it was the beginning of the end.

He was growing up and was at that awkward age, as a teenager, when his novelty effect had worn off, but he was still too young to be seriously considered a jazz musician. He still received a lot of fan mail from Europe and Africa, but at home in the US he was struggling. He had also missed out on a childhood, and he begged his Father to allow him to stop the touring and go to school. He told music historian Dan Kochakian: "I stopped recording after the Capitol sessions in 1952. All during that time I had a tutor, so even on the road, I was studying. That wasn't what bothered me. I wanted to go to school…I wanted some school background in me and I asked my Dad if I could stop and I went to school because I honestly wanted my college diploma. I was ahead of my age group in school. I graduated from Northern High School at age 15 and most of my friends were seventeen or eighteen when they graduated. I graduated from Olivet College here in Michigan around 1960. I have a degree in psychology."

His last single release was issued in August 1952,shortly followed by a 10" compilation LP of boogie woogie that featured many of his 1952 recordings. There were one or two more reports in the trade papers of the day - he played four engagements in 1953, followed in 1954 by another three engagements, one of which, in August 1954, was at The Blue Note in Chicago with modern jazz saxophonist Gerry Mulligan. Now billed as Frank Robinson, he played just two engagements throughout 1955 and 1956 - and at the ripe old age of eighteen he retired from show business.
In the 1960s he got a job with WGPR-TV, selling TV commercials, and briefly regained some contact with the music business, by co-owning the Detroit-based Lando and Lendo labels, which released 45s by Rufus Wonder - cousin to Stevie - and Carl Carlton. On the strength of these minor successes, Frank opened his own recording studio and started the AutoCap label, which also enjoyed a minor hit with "Don't Walk Away" by The Superlatives.

Nothing more was heard of "Sugar Chile" for many years and the worst was feared, until July 2002 when the 63 year old former child star made a surprise appearance at a special concert celebrating the pre-Motown legends of Detroit music and then, in 2007 for the first time in fifty-five years, he was persuaded out of retirement to make the journey across the Atlantic to perform once again for his European fans at the "Rhythm Riot" weekender, where he delighted a generation of rock `n' roll fans who had spent the last thirty years dancing to his popular club favorites such as "Numbers Boogie", Whop Whop" and "Go Boy Go".

Dave
These pages were saved from "This Is My Story" for reference usage only. Please note that these pages were not originally published or written by BlackCat Rockabilly Europe. For comments or information please contact Dik de Heer at dik.de.heer@hetnet.nl
Recorded at Jam 'G Productions Studios

Oakland, California USA

On the Oh! O' Star Record Label.

© 2015 Oh! O' Star Records

©2005-2011 RWE-USA ∙OH! O'Star Records
All rights reserved.